Classone Parma Series BP-IT805 WTXpro Waterproof Fabric 15.6 Laptop Backpack – Claret Red
Description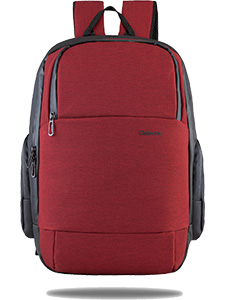 MODEL: IT805 – CLARET RED
The Parma series, prepared by our Turkish and Italian designers, is on sale in Europe and Turkey at the same time.
DESIGNED FOR WORK AND TRAVEL
You will feel the difference with the Parma series specially designed by the Classone brand. It is extra resistant to water even in harsh winter conditions with its SQUARE fabric and waterproof zipper specially produced by the Classone brand. Our model, which has a modern appearance, provides the opportunity to be used in every area of your life.
TRANSPORT
As the Classone brand, we continue to design with your comfort in mind in every detail. In the Parma series, you can carry your bag on the shoulder, attach it to your suitcase with a hanger or carry it in your hand with the extendable top carrying handle.
FRONT DESIGN:
In the front design of the bag, extra water resistant zippered side pockets have been added to the right and left sides.
Classone Parma series is specially designed for your needs.
How would you like to be different?
With the notebook, you can easily fit your tablet and the items you actively use in daily life.
It offers comfort in your travels with its luggage hanger apparatus. There is also a zippered pocket in front of the suitcase hanger.
COMPATIBILITY TABLE
MacBook: 16, 15.6, 15, 14, 13.3, 13 inches
ULTRABOOK: 16, 15.6, 15, 14, 13.3, 13 inches
NOTEBOOK: 16, 15.6, 15, 14, 13.3, 13 inches
Dimensions: 46 x 32 x 16 cm ±5%   Weight: 800 gr
Ean: 8699261815304